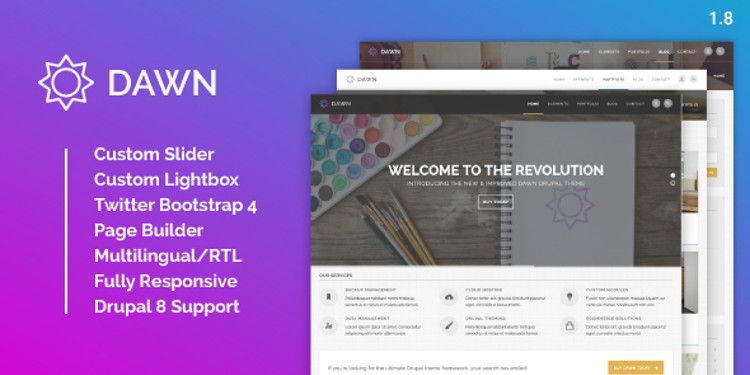 CyberTeknic is built upon Drupal 7 and the latest Dawn Theme. The Dawn Theme is completely responsive, multilingual and retina ready. What all can you do with the Dawn Theme?
CyberTeknic a partial 'white label' eCommerce website selling WordPress and Drupal themes. On the cms themes web page, you have the ability to sort themes by genre without reloading. The Dawn theme comes with a grid layout with a special header allowing for sorting pictures in masonry format! Additionally, theme information appear in a light box slide show featuring either the photo themselves or a demonstrative video.
Notice the slide show as you open the landing page? The Dawn theme comes with a slider which shows photos at a specific time and at a pattern of your choosing. For example, you can have photos from the slider appear horizontally, vertically, broken patterns or fade. Also, within the slider photo, you can have timed graphics. Graphics can be words that appear at a specified sequence. Also, graphic images can appear within an animated timed sequence. You can also embed video within the slider presentation
What additional settings does the Dawn theme have for appearance? Within the Dawn Theme, block layout has regions such as top content, header, right sidebar, third footer to name a few. In the Drupal theme appearance section, you can adjust the distribution of columns pertaining to each region. For example, the entire width is divided by 12 columns. You can allocate 4 columns for the right sidebar, two columns for the left sidebar and the center content will default to the remaining six columns. Having regions, divided by columns, allows for your layout to remain responsive. In other words, rendered in stylish fashion, readable in multiple screen sizes.
Additional pages are included in the demo such as a 'fee' layout for exhibiting services and their costs. A contact form page with an integrated Google Map and a complete page of all kinds of elements adding style and functionality to your website.
Check out the Dawn theme Demo!! Or, the Dawn theme can be purchased here!