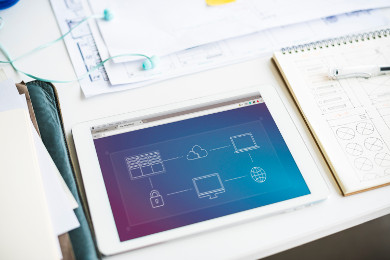 CyberTeknic offers high availability cloud hosting at affordable prices and unprecedented speed, with bulletproof internet security.
What is cloud hosting? Cloud hosting is a way of spreading your hosting needs over several physical computers. Hence, if one computer fails, the others continue to host your computing needs. That way, you enjoy near perfect availability for your business.
What are my choices in cloud hosting?
CyperTeknic uses Google Cloud or Amazon Web Services for our cloud hosting. We create a VPS which stands for virtual private server. A VPS contains exclusively your computing needs. For example, your VPS hosts your business websites and email.
When CyberTeknic creates your VPS, we have choices of computing power depending on your needs. It's just like buying a computer for your business. Choices include how much storage space you need, computing power and memory. Cloud hosting is billed by how much you utilize services. Customizing your VPS assures not spending more than you need.
You also have a choice of what operating system to run on your VPS. For example, CyberTeknic prefers running the Ubuntu Server operating system. Another Linux type operating system is RedHat Enterprise which is licensed by RedHat. Since RedHat Enterprise is licensed, it costs more for hosting.
My business will grow, will my cloud hosting grow with it?
Yes, both Amazon web services and Google Cloud offer hosting services accommodating needs for small business to large corporations. Offerings include platforms for handling large amounts of data, 'high end' databases and powerful VPS solutions.
What services does CyberTeknic provide for cloud hosting?
CyberTeknic transfers all your current digital needs. Your websites are configured on web servers best serving your content. Your business email is hosted along with methods deterring SPAM and viruses. CyberTeknic also configures various caching techniques to assure websites load quickly.
Our Process
Putting a web site together along with a internet marketing campaign requires tremendous amount of planning. Our job is to take the complexity out of the task while minimizing cost and time. Bottom line, Cyber Teknic works closely with you assuring a well thought out plan that expedites the process at the lowest cost to you. And, delivering an outstanding website that serves you well!
Design begins in the planning process. Pictorial 'Mock ups' of the theme you chose are presented with your company color schemes, images and structure that best presents the information. You have an idea of what the web site looks like before the web design coding begins. Emphasis is made on balance, color scheme that blends well, information that can be found quickly and a strong message of professionalism.
Web development is the programming behind a website theme and content management system. Occasionally, a particular functionality cannot be found in either Wordpress plugins orDrupal modules. Then, a module or plugin needs to be programmed. Modules and plugins can be outsourced inexpensively.
Cyber Teknic's testing consists of pre-launch bench tests against the anticipated load of your website. Content management systems need tuning such as server-side caching, optimizing image size to assure your website loads as quickly as possible. Testing also includes making sure you have enough processing power behind your anticipated demand. CyberTeknic also has to test when software upgrades occur. Testing software upgrades, patches and security fixes have to be done on development servers that are backed up.
Finally moving your CMS to production is an exciting event but necessary tasks must follow. Internet marketing is a process that doesn't happen overnight. It's very methodical and done carefully so your web site isn't penalized by the search engines. Internet marketing has increased in complexity requiring an ever increasing breadth of knowledge. CyberTeknic produces comprehensive reports helping your company understand your marketing campaign. Our reports demonstrate progress made and areas of weakness that need more work.