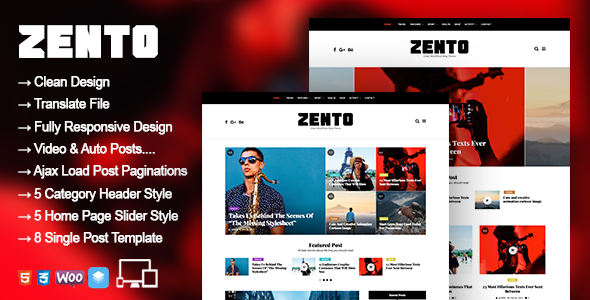 Zento, WordPress blogging magazine responsive theme! With Zento, you have unlimited color choices, 'drop & drag' page builder, post reviews with your choice of many magazine layouts. Perfect for illustrious pictures and videos to captivate your audience!
WordPress Zento Theme, fantastic deal at $39. As illustrated below, Zento theme gives you over 12+ layout choices and coloring schemes.
For starts, check out the beautiful multi-photo slider with attached links. What an extremely efficient way to advertise your content in a very simple comprehensive manor. Also, a nice carousel 'featured posts' photos with multiple topics. As your website visitor scrolls down, finding a rich layout from which to explore a multitude of topics. Extremely powerful!!
Check out the grid dark mode and how it changes the tone of your photos and videos. Note the beautiful social media icons attached to photographic posting. The right sidebar has a nice newsletter sign-up for your visitors. Also, on the right side, a beautiful category menu by photo and counter for postings. And, supplement your content and promote social media, a beautiful Instagram feed at the bottom. Check out the demos!