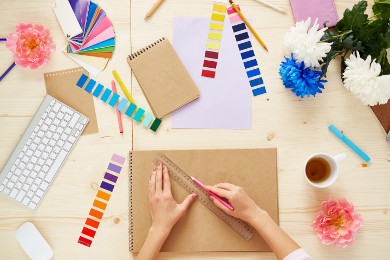 The overwhelming task of doing web design from the ground up has been reduced to choosing a CMS, a theme genre and a theme design best representing your company.
There is more to choosing the web design that appeals to your needs. CyberTeknic helps you decide what content management system is best for your small to mid-size business. Drupal and WordPress are excellent content management systems but each serves different purposes.
For example, suppose your a small business owner who wants an informative website describing services offered. The content will, for the most part, stay the same. As a small business owner, you want those who are out in their car looking for your services to be able to find you but also see your website on their mobile device. A responsive WordPress website will work well. Additionally, the small business owner will need an internet marketing campaign focusing on local search results.
A small to mid-size business who requires dynamic content has different needs in a content management system. If a small business wants to sell products and has an eCommerce website, the question becomes how dynamic you want products presented to the customer. For example, as the customer shops, they are clicking based on their interests in your products. You may want your retail website to feature content based on what they've chosen to view. Arrangements for presenting your retail products becomes complex, a CMS like Drupal makes more sense. If you just want your products listed and organized by categories without any consideration of how your website user is engaging with your content, then WordPress becomes a good choice.
Deciding what CMS is best for your business is important, but not critical when shopping for a theme. Often, a theme web design in Drupal can be found in WordPress as well. CyberTeknic helps you in deciding what CMS is best for your needs. Before deciding what web design seems most attractive, the structure or genre of the theme is important.
Each theme, aside from belonging to a type of CMS, also has a genre. Examples of genres would be a blog, retail, corporate to name a few. Each type of genre has a specific structure or organization which optimizes the website users engagement for the information they seek. For example, a blog will have 'teasers' listed down the front page of articles written by the blogger. Teasers is a small sample of the article to entice the web site visitor to read more. A corporate genre engages the visitor with an assortment of web pages describing top management, corporate goals, community involvement, careers.
CyberTeknic helps you sort through CMS themes on our website. The themes CyberTeknic sells are organized by content management systems and functionality such as retail or corporate. Listed with a picture of the theme are the attributes that come with it. Examples of attributes are that the website is responsive, has infinite scroll or the web design is retina ready. Included with the attributes is a Demo button to see the website in action.
It doesn't necessarily end with just choosing the theme. Your website needs customization. Your company may have a specific color scheme that matches corporate logos or set the tone that you want to express. The process of web design now begins but varying from theme to theme, settings can allow for quick changes to color, font size that used to be hard-coded into the website. Such is the power of using content management systems and themes. The web design can be done simply with a dashboard. Not that hard-coding web design isn't done.
Our Process
Putting a web site together along with a internet marketing campaign requires tremendous amount of planning. Our job is to take the complexity out of the task while minimizing cost and time. Bottom line, Cyber Teknic works closely with you assuring a well thought out plan that expedites the process at the lowest cost to you. And, delivering an outstanding website that serves you well!
Design begins in the planning process. Pictorial 'Mock ups' of the theme you chose are presented with your company color schemes, images and structure that best presents the information. You have an idea of what the web site looks like before the web design coding begins. Emphasis is made on balance, color scheme that blends well, information that can be found quickly and a strong message of professionalism.
Web development is the programming behind a website theme and content management system. Occasionally, a particular functionality cannot be found in either Wordpress plugins orDrupal modules. Then, a module or plugin needs to be programmed. Modules and plugins can be outsourced inexpensively.
Cyber Teknic's testing consists of pre-launch bench tests against the anticipated load of your website. Content management systems need tuning such as server-side caching, optimizing image size to assure your website loads as quickly as possible. Testing also includes making sure you have enough processing power behind your anticipated demand. CyberTeknic also has to test when software upgrades occur. Testing software upgrades, patches and security fixes have to be done on development servers that are backed up.
Finally moving your CMS to production is an exciting event but necessary tasks must follow. Internet marketing is a process that doesn't happen overnight. It's very methodical and done carefully so your web site isn't penalized by the search engines. Internet marketing has increased in complexity requiring an ever increasing breadth of knowledge. CyberTeknic produces comprehensive reports helping your company understand your marketing campaign. Our reports demonstrate progress made and areas of weakness that need more work.